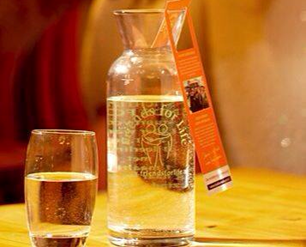 The project 'Water for Kenya' has been introduced some years ago by the founder of Friends for Life, Lammert Braaksma. He was and still is very familiar with the Dutch hospitality business, mainly in the area of The Hague. From this position he started making restaurant owners enthusiastic about participating in this project. In the meantime several restaurant in different parts of the Netherlands participate.
Friends for Life facilitates the delivery of spe ial waterjugs with the logo of Friends for Life printed on them and special 'neck labels' that can be attached to the water jugs. These labels contain information about the project and about Friends for Life.
The guests in the participating restaurants are being offered the possibility to order a waterjug with water from the tap during their meal for just € 1,- . This full amount will be donated to Friends for Life.
The guests have been reacting very positive to this initiative and so a win-win situation is the outcome of the participation. The resrtaurant owner van now show his or her commitment to social responsibility in an attarctive way,
In the coming years we would like to expand this project to many more other restaurants in the Netherlands. Are you a restaurant owner or do you know a restaurant owner who would like to participate in this unique project?  PLease get in touch with us by calling us: +31 (0)703242436.
Please see here an overview of the participating restaurants.