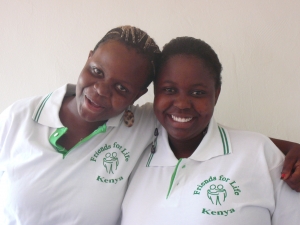 Kenyan Students that receive a scholarship from Friends for Life commit themselves to sponsor another student once graduated. By repaying small amounts which sums up to a total of their own loan, they support the next student in line. In this way, a sustainable programme is guaranteed and the students learn to take responsibility and look after the next generation.
By offering education in Kenya, Friends for Life contributes in a sustainable way to a decrease of poverty. However, we want to prevent contributing to a so called dependency syndrome. Instead, we want to stimulate equality, self-sufficiency and we want to connect people.
Once a Kenyan student has been accepted in our scholarship programme, he or she signs a student contract. This contract contains the agreement that the student starts to repay the loan after a grace period of 6 months in order to sponsor the next student. During the last phase of the study and after graduation, the student is being guided in finding a job in order to make sure the student is able to repay. The student will then (as a group) be connected to a student who is new in the programme. This is the student they will now sponsor by repaying their instalments monthly. The goal is made clear on a concrete level, which creates an optimal incentive for repayment. The students could even exchange experiences and peer-to-peer coaching is possible between graduate and fresh student.