Donate without costs by shopping at your favorite webshops!
Via goededoelshop.nl kun je shoppen bij ruim 300 bekende webshops (Bol.com, Zalando, Media Markt, V&D etc.) en gaat er per aankoop een donatie naar Stichting Friends for Life! Je shopt zo bij dezelfde winkels voor dezelfde prijzen en je doneert zonder dat het je iets extra kost!
You can now shop online through goededoelshop.nl in more than 300 online webshops (Bol.com, Zalando, Media Markt, V&D etc.), donate automatically without any extra costs!  Per bought item a percentage will go automatically to Friends for Life when you select us through goededoelshop.nl. This way you can shop at the same webshops you normally do for the same prices and donate in the meantime without any costs!
How does it work? 
 1) Go to www.goededoelshop.nl and click on "Log in".
2) Click on "Ik ben nieuw" (I am new) and create an account.
3) Choose at "goede doelen"  (charitas) for Friends for Life and go to  "Shops".
4) Choose your favorite webshop.
*After shopping you will receive a confirmation through email from the webshop and an email from goededoelshop.nl indicating the amount of your donation.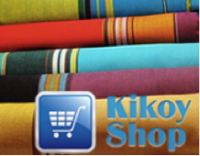 Buy a beautiful Kenyan product and donate automatically!
Friends for Life Foundation has a web-shop partner that contributes through a percentage of every sold article in their kikoy shop when Friends for Life is mentioned during the ordering process. Their web-shop is called: 'de kikoyshop'. www.kikoyshop.nl sells beautiful products made by Kenyan women. If you order one of these products and mention Friends for Life, 15% of that product will be donated to our organization.
Pay attention! If you want to order a product and contribute to Friends for Life, please fill in the code 'FFL' during the order process. Only then you will donate 15% of the returns to Friends for Life. During the order process you will be asked to fill in this code.
Participate with your webshop
We would also like to display your web-shop on our website and within our network. Are you also interested in participating with your web-shop and donate through products sold?  Please contact us.